What are the differences between direct and indirect fired heaters?
Direct fired
Andrews direct fired heaters - These compact, robust, fully portable heaters are best for places that need large volumes of warm air, such as factories, warehouses, farm buildings, construction sites, concrete batching plants and industrial facilities. Our direct fired heaters can be used with either, 110 volt or 240 volt electrical supplies. As with all direct fired heaters, they must have permanent ventilation to the outside environment. They are not suitable for marquee uses, or environments where flammable materials are stored or where people are in close proximity. If you are in any doubt please call 0800 211 611 for assistance in choosing the right heater for your needs. With direct fired units the products of combustion remain in the area being heated and therefore a high level of natural ventilation is essential.
Click here to view our Direct fired Gas Heaters and Direct Fired Oil Heaters.
Indirect fired
Indirect fired heaters - these are sophisticated, reliable and highly efficient heaters, they are ideal for places where there's limited ventilation, or where people are present, as they deliver huge volumes of clean, dry, fume free heat safely and economically. Indirect fired heaters are widely used in the event industry to heat marquees and temporary structures, keeping guests warm without any noise, smells or fumes. These units are also used where delicate and combustible materials are being stored, being indirect they keep the flame separate from the air flow. On construction sites, indirect fired oil heaters are very popular as they provide clean dry air to assist with frost protection, whilst accelerating the drying process. These units are often successfully used in warehouses, factories, marquees, temporary structure, oil refineries, building sites and sports events. Indirect fired units can be positioned outside of the area requiring to be heated with the hot air ducted in via flexible ducting, or alternatively they can be positioned within the heated area with the fumes and exhaust ducted outside via a flexible flue.
Click here to view our Indirect fired gas heaters and Indirect Fired Oil Heaters.
Our Service
A free site survey by an Andrews heating specialist will help you work out exactly what model and set-up is right for your location and application.
For health and safety reasons, it is essential that you choose and operate the right type of heater for your location and application. We will be pleased to advise you on the safest and most appropriate heater(s) to use.
All direct fired heaters require permanent ventilation to the outside atmosphere and it's recommended to allow a minimum of 6.5cm² for every 293W of heat input.
Call us on 0800 211 611 for help and advice or more details.
Our Range
These units deliver huge volumes of clean heat and are perfect for places where ventilation is limited or where people are present
Indirect fired gas heaters provide clean, dry heat safely and economically and are an ideal solution for places where there is limited ventilation
Where there is sufficient air movement, our direct fired oil heaters represent a safe and effective solution to low ambient temperatures
Watch our video
We have produced a series of videos outlining our product range, explaining how our equipment works and outlining the many scenarios in which our assistance might be required.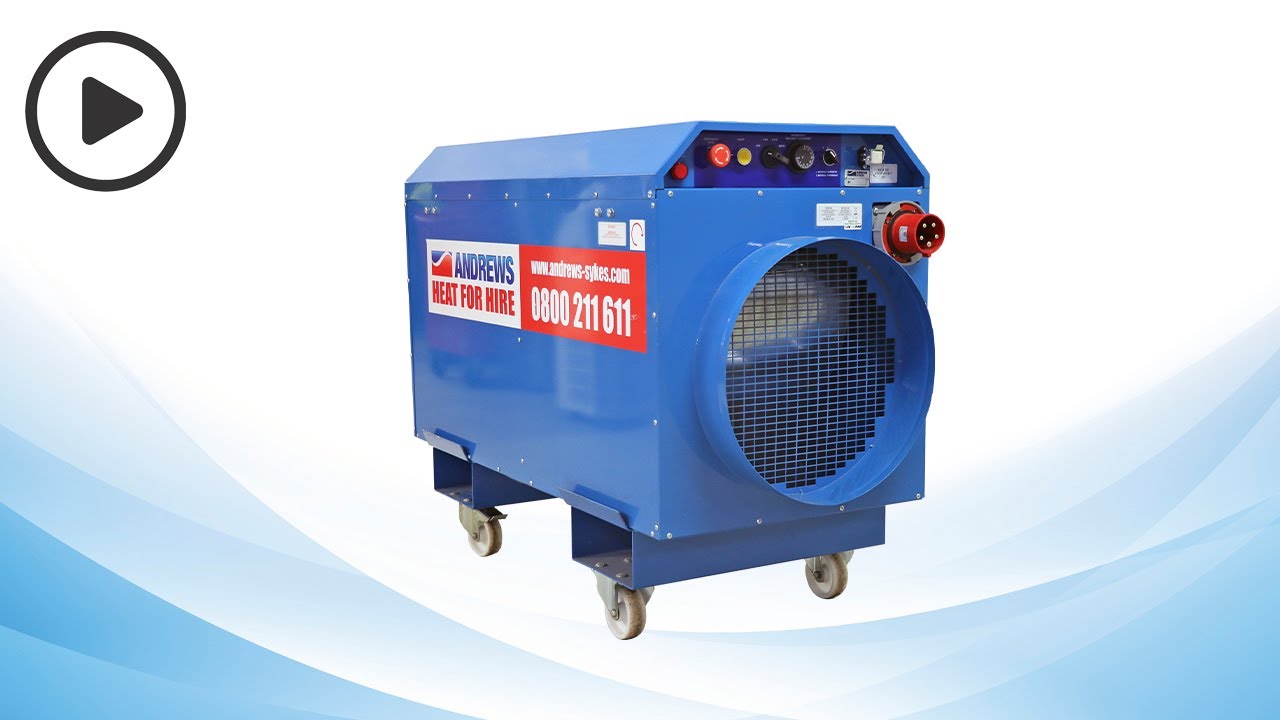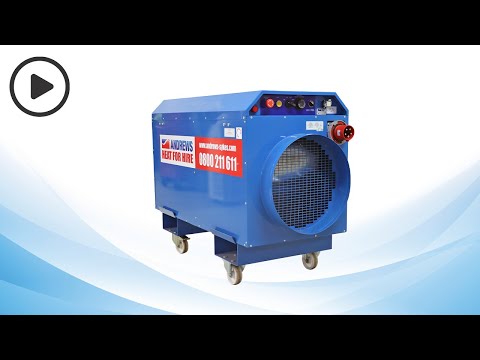 Whether you want to heat up a room, warehouse or you're looking to provide frost protection for a construction site, Andrews Heat for Hire is waiting to assist you. With fast and reliable round-the-clock delivery, our nationwide depots are fully stocked with thousands of the latest portable heating products along with all the accessories and fuel you might need. If you're unsure which heater is best for you, our experts are just a phone call away and can provide advice in an instant. Free site surveys enable us to deliver the right portable heaters which have been designed with your environment in mind. For health and safety reasons, it is essential that you choose and operate the right type of portable heater for your location and application. Our oil filled radiators are often used for areas where children or the elderly can come in contact with the heater. In industrial applications where flammable materials are stored, indirect fired portable heaters are often the best solution. When selecting your portable heating solution, fuel efficiency should be carefully considered. By designing the system correctly, you can save hundreds of pounds in fuel costs. Choosing the right fuel for the application (gas, electric or oil), the positioning of the heater, recirculation and insulation all have a huge impact on fuel usage. By calling us free today on 0800 211 611, you'll understand why we're not just a general hire company but the leading specialist heating hire company in the UK. Our heating units can provide instant heat for offices, retail, events, local authorities, hospitals, healthcare and many other environments.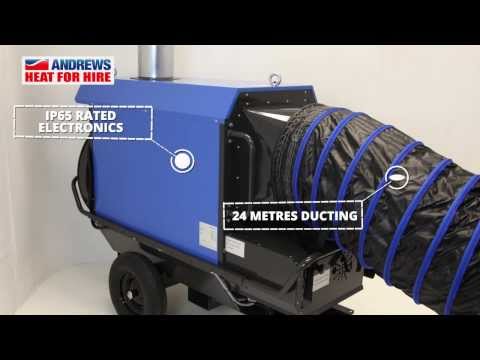 The ID65 has the potential to save you over £2 per hour in fuel, is an extremely versatile unit and features a 65kW heat output alongside: • An impressive 91% Fuel efficiency, the ID65 is 33% more efficient than the previous model. • An external thermostat means automatically running, saving fuel costs. • Fits through standard 760mm doorway. Also features IP65 rated electrics making it fully weatherproof for external use. • Pneumatic tyres mean easy transportation on soft or hard ground. • A single quick release fuel line makes for a simple installation without tools. • A 66 dBa noise level makes this unit almost silent in use. • 24 meters of ducting allows the unit to be stationed from a distance. Find out more. http://www.andrews-sykes.com/heaters/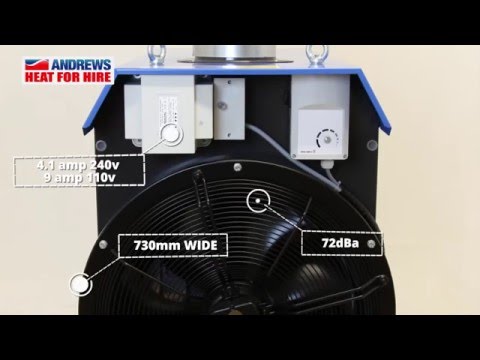 Andrews Heat for Hire are delighted to confirm the launch of our latest high capacity indirect fired gas heater – the IG65DV. Capable of raising the temperature in areas of up to 1,625m³, this particular product has been designed for a broad range of environments including construction sites, warehouses, factories and even agricultural surroundings.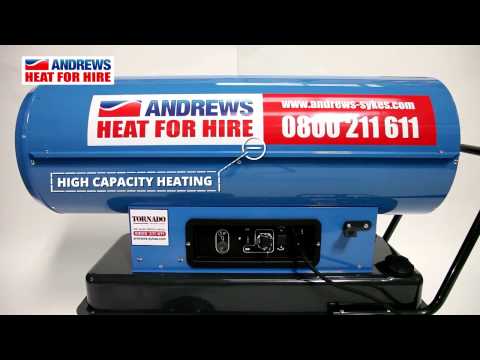 This particular model of heater is capable of efficient operation and has an average fuel consumption of just 5.5 l/h. With a nominal heating duty of up to 69kW, the unit is ideal for areas of up to 2,500m³ in size.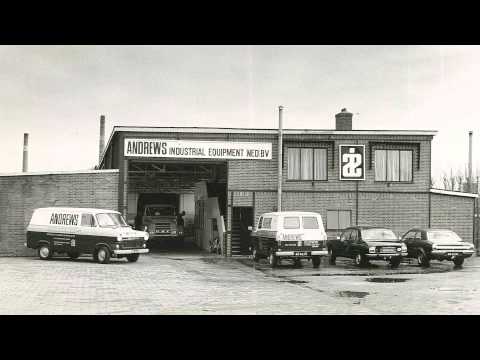 After 50 years of successful enterprise under the Andrews brand, we take a brief look back at the company's steady growth since its inception in 1964. Original founder John Andrews narrates his recollection of events preceding his retirement, referencing several key turning points which have led to us now being revered as one of the UK's leading specialist hire companies.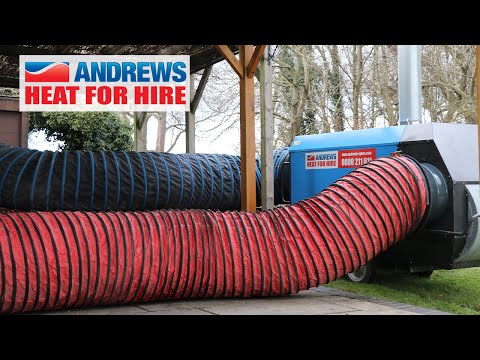 What is heater recirculation and what are the benefits? Our video takes you through the various configurations available to customers, with solutions tailored according to whether you'd prefer to deliver air changes, maximise efficiency, or satisfy a requirement that is something in between."